#1
ABC Organization is pleased to make a new announcement regarding the working schedule for the Christmas holidays. This has been designed keeping in view the ease of every employee and I hope it will be beneficial for everyone. This new schedule will be a source of vivacity and dynamism to our employees, and they will work for the betterment of the company. It will also make you able to spend a handsome amount of time with your dear ones. I hope you will feel at ease with the decision taken by the company. The company cannot attain its set targets without your endeavors, and we always look for your support. The queries related to this can be asked from our desk help.
#2
Dear employees, kindly take this message as a preliminary schedule during the Christmas holidays. This has been set keeping in mind the number of workers we need on daily basis and slight changes can be made to it. You can check your name in the list, if it is not feasible for you then you can let us know so we may make possible adjustments for you but only those with serious problems will be preferred. The company cares for its employees and appreciates you endeavors you all are making for its progress. Wishing you all a great Christmas holiday!
#3
As you all know that holiday season is around the corner and all of you have designed your holidays accordingly. This message has been written to ask for your anticipation during the holidays and for this, we have made a tentative schedule. The schedule was circulated among the workers, and they have not any problem with it, but if anyone of you has queries related to it then I am available during office hours. The organization will remain closed from [mention date] to [mention date]. No official dealings will be dealt with during this period, and we are renewing our regular operations from [mention date]. I hope that our employment necessities will be covered with this schedule and you all can spend quality time with your loved ones.
#4
Christmas is around the corner, and I know you all will be waiting for the holidays. But in the holiday season there seem to be appeared more customers than on normal days. So, keeping in mind the entire scenario there has been designed a work schedule for you overseeing your queries. If anyone of you wants an adjustment in the schedule, then he can contact us personally and we will try to improvise it for him, but only serious queries will be put forward. I am hopeful that our recruitment prerequisites will meet with this tentative list, and everyone can spend holidays with his family. Your collaboration and support will be highly appreciated in this regard.
#5
I am Kim Jones; CEO of ABC Enterprises and I have come up with special news for all of you. This is the time of year everyone waits for. The enterprise is announcing holidays from [mention date] to [mention date] and we want everyone to have an exquisite time with his family. The work schedule for the holidays has been lodged in an approximate manner and you can cheer up every moment. You do not need to come to work regularly as the working-from-home facility has been made enabled for all of you and only a number of the employees will work on alternate days. This schedule is liable only during the Christmas holidays and for a further extension, you will be notified.
#6
Below is the schedule to be followed during the Christmas holidays starting from [mention date] to [mention date]. You all need to pace yourself with the changes made in your old times. We cannot keep the company closed totally; therefore, 20% of the employees will work on a daily basis for 3 hours. In our last meeting, I circulated the preliminary list among you, and you were all satisfied with it. Moreover, you all will be given surprise gifts before Christmas. There will be completely off in the company for seven days and you can enjoy plenty of time at home. Make sure to remember others in your happiness too. Waiting to see you all resuming your duties with more readiness and devotion. Merry Christmas!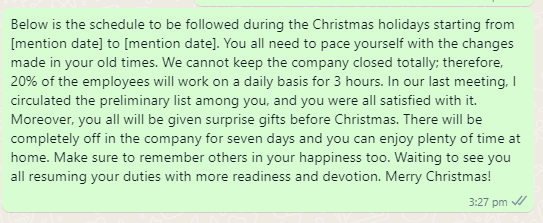 More similar messages…