#1
This is a reprimand message to you on account of leaving the office early and not following the assigned office hours. This attitude is unappreciated and has left a negative impact on you before us. We were deprived of our main construction project because of not following the deadline as the part assigned to you still needs modifications. This has earned a bad reputation for the company. I had already given multiple warnings to you to come on the track, but you did not take it seriously. This reprimand message was the only option we were left with to make you sincere towards your job. You will work extra two hours daily for a week and 10% of your salary will be deducted this month. You are directed to meet our focal person on [mention date] immediately.
#2
Dear employee, this has been brought to my notice that you have been leaving the office early for the past two weeks. The situation which hurt me badly is that you are doing this without letting any of us know. I am sending you this letter as a reprimand and want you to not neglect it. You have always been in my good books and I appraise your commitment and resilience toward work but I was not expecting this carelessness from you. It is disturbing the workplace environment as your colleagues complain about this. You need to be bound by the office timings and not following it will result in serious action against you. We care for our employees but it does not mean that we will let them break our rules. If you continue to do so then I am sorry to say that you will lose your job. I hope you will understand the seriousness of the matter.
#3
This message is to let you know that I have been reported about your leaving home early before the actual time. Mr. Hamilton has shown me your attendance record and I got shocked to see how careless you have become. You need to read the organization's policies carefully once again where it is clearly mentioned that this is not acceptable at all. The deadline for ABC Project is approaching soon and you have not done even half of the work. Please keep in mind that we cannot compromise on the quality of the project. Your cooperation is highly needed at this time and I want a positive change in your attitude. From now onwards you are not allowed to leave the office early otherwise I will be compelled to terminate you. I want you to take this warning seriously.
#4
Mr. Louis, the assistant manager of the finance department has registered a complaint against you for working less than the assigned hours. He had given you many warnings that your workload is increasing, and you need to accomplish it before the deadline. I made a detailed inquiry and came to know that you are not even taking the work seriously and spend most of your time on your mobile. You are not allowed to leave office premises early without informing to the concerned person. If you do not follow the organization's rules, then we will take strict action against you.
#5
This letter has been sent to you as a reprimand due to leaving the office early every other day. I have come to know through concerned persons that you are not executing your duties adequately. As an employee, you are bounded by the rules and regulations of the company, and you need to follow them at any rate. We have set office hours for our workers, and we want them to work during these particular hours. Your colleagues feel uneasy about your leaving early and it clearly indicates that you do not take the organization's policies seriously.

You have been given many warnings to change this attitude and this message serves to let you know of the matter's gravity. Carrying on this non-seriousness will might result in the loss of your job. You are a good and hardworking employee and I do not want you to show such negligence. I have high expectations from you, and I hope you will take this warning seriously.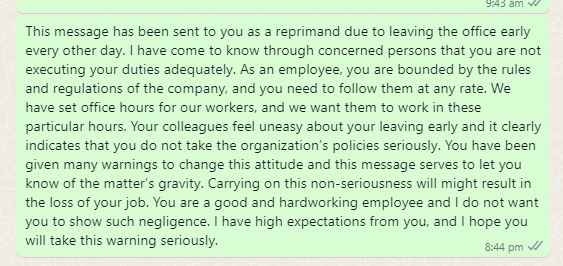 See also: