#1
Dear valuable customers, we would like to let you know that on account of Christmas and New Year there would be a delay in shipping. Orders that were placed on 23rd December will be dispatched on 6th January. You are requested to have a look at the schedule related to shipping before placing any orders. It will take ten working days than usual to deliver products and we are extremely sorry for the delay in delivery, and we hope that you will understand the situation. We ensure you that the quality of service would not be affected at all. Happy New Year and Merry Christmas to all!
#2
Hope you have been doing great. This notice is being written to you to let you notify that there is a little delay in the shipping of your order. It was supposed to deliver on 26th December but due to Christmas, we are off for seven days. Moreover, the order that you had placed is out of stock now as we had received hundreds of such orders so currently, we are short of your required product. To serve our customers keeps vital importance to us than anything and we are extremely sorry for providing any kind of inconvenience to you. We are hopeful that once the company opens after the Christmas holidays your issue will be resolved. Enjoy holidays with your loved ones and family. Thanks a lot for giving us a kind gesture.
#3
We are extremely sorry that the wood table you had ordered from our outlet has not been dispatched yet. The reason for this is that its demand had been exceeded our usual expectations and currently our stock has been diminished. Moreover, due to Christmas, we are facing these kinds of issues as we are off during these days. But our supplier has promised that as the holidays come to an end, he will deliver the products on time but for the current inconvenience, we are sorry. Kindly let us know if you want to cancel your order or will wait for the holidays to end. Respond to us via email. Thanks for trusting our services and Merry Christmas to you all!
#4
We are apologetic for the delay in delivery of your order. Your order has not been dispatched yet because of Christmas. Our last working day was 21st December and the orders that have been placed after that will be delivered late. Usually, we take three days to deliver a product but currently, due to holidays, we will start our services on 4th January. We are sorry for this temporary inconvenience but anyhow if you want a refund then you can let us notify you via email or telephone. We hope that you will enjoy the holidays at your best and thanks you for your loyal partisanship.
#5
We are thankful to you for placing your order via our services, but we are sorry to inform you that there will be a slight delay in delivery due to the Christmas holidays. Unluckily, the order you had placed for our winter end's sale is out of stock and we are receiving a lot of complaints from customers. We will resume our services on 2nd January so if you can wait for a week then you will get the product 70% off and if you do not want to wait then you can receive your fund back. For any proceedings, you can call our helpline or email. Your order number was 12345 and we are looking forward to hearing a response from you. Happy Holidays season!
#6
This message is being written to you regarding your order number that you had placed with ABC Company on 22nd December. We are highly apologetic for the delay in delivery of your required product. We are going to inform you that we are late due to Christmas and during these holidays, we are not dispatching any orders. Moreover, due to inconsistency in the prefabricating department and hundreds of similar orders you are facing this inconvenience. Everyone wants to send presents to their loved ones on Christmas, so we are bombarded with thousands of orders this week. The delay will be minimized once we come back to office on 3rd January and we make you certain that till 7th January you will have your order in your hands. We will equip our concerned department with 10 more staffs and soon your order will be dispatched. Thanks for cooperating with us.
#7
Hello Mr. Mark, this message is to let you notify that the order you were going to receive tomorrow will now be dispatched after the Christmas holidays. You have been a supportive and loyal customer of our company, and we are extremely bountiful for keeping your trust in us. For your next purchase, we are offering you a 30% discount as a small token of love from us. Soon you will be provided a code via email, and you can avail of this discount anytime. For the current order, if you want to wait then your order will be dispatched on 4th January. In case you want your money back, we can refund your money too. You can let us inform by calling on our official number. Thank you for choosing us!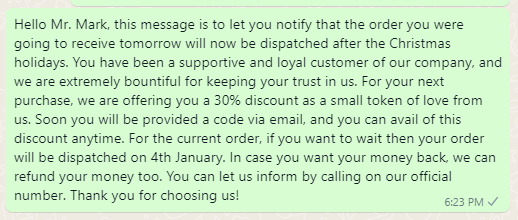 See also: